It's the 1st Challenge of the New Year over at
Hiding In My Craft Room!!!
HIMCR #334 - Your Favorite Colors! Pick 3!
Our sponsor this week is My Besties!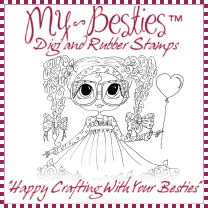 What's the prize, you ask!
3 images from My Besties - Winner's choice!!!!
Can you guess what my 3 favorite colors are?
If you guessed red, white and black, you guessed correctly. I must say it is difficult narrowing my favorites down because I like all colors.
Be sure to head over to Hiding In My Craft Room
and link up your project!!!!