If you are looking for the Silly Old Bear Blog Hop Scroll down or click
HERE!
Hiding In My Craft Room Blogiversary Celebration Challenge #3 - Buttons and Bows
The sponsor is My Besties!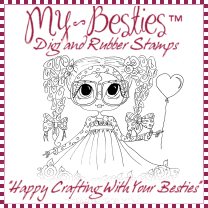 The giveaway is the My Besties images used by the HIMCR DT!
For my card for this challenge of course includes an image from My Besties, a ribbon and a button!!!!
I love, love, love this image. Her big eyes are soooo sweet! I ran my green panel through my Cuttlebug, added some pink ribbon with that scroll heart button!
Thanks for joining us today!!!!
Now lets see what you came up with!