Hello Everyone
Welcome to the Valentine's Gift Bag Blog Hop
We are so excited you could join us!
Do you find yourself running out of time to make your gift bags for you love ones, kids classmates & teachers or that special someone. If you are one of these people than you are in the right place.
This hop have lots of wonderful projects to inspire you to create your very own gift bags. This is a one day hop and we would appreciate your comments on each blog along the way.
Our Fabulous Sponsor's: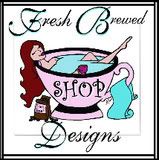 Heather
at
Fresh Brewed Designs
Prize: A $10 Gift Card to
Fresh Brewed Designs Store
Facebook Page:
Fresh Brewed Designs
We would like to
THANK
all of our awesome sponsor for sponsoring this blog hop
&;
We would like to thank all of the ladies who helped us by creating a awesome gift bags for this hop
We couldn't have done it with your help!
Thank You Ladies!


How do you win?
1. You must complete the blog hop
You must leave a comment on all blogs and follow each one.

2. You must stop by our sponsors Facebook Page:
Like and Leave a comment saying you are from the Valentine's Gift Bag Hop and Thank them for being a Sponsor.

With out them we would not have so many awesome gifts to give!

We will have 3 winners. One for each prize!


Winners will be chosen on Monday Jan. 28th and will be listed on both of our blogs!
AJ Scrapbooking & Cards & Angela's Crafty Spot!

On to my projects!

I made two bags/boxes:


First is this cute little heart box, which would be great for something small or some candy.
And then for my larger gifts, I decorated this bag! It was a regular craft bag that I added some background paper and a heart to!
Your next stop my super talented friend CANDICE!
Happy Hopping-